6.2: Criteria 1 – Meaningful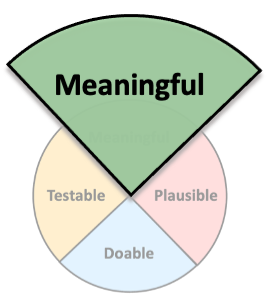 Meaningful: The logic model represents action that is valued and worth doing
Does the ultimate end outcome represent a meaningful benefit of value to the public? Does this outcome have inherent value? Can the outcome be associated with the program?
Does the logic model represent the program's purpose? Does it depict an important response to the situation? Does it represent action that is really worth undertaking?
Are all potential negative, unintended consequences or chains of events examined?
Does the logic model communicate well?
---