3.1: Linkages – Theory of Action
It is the linkages – not just what is labeled as input, output, or outcome – that give the model its power. We began to see this when talking about outcome chains (Section 2). The lines and directional arrows depict the connections for your theory of action. You may include all the lines and arrows, or you may leave some of the connections abbreviated and implied. These flows may be vertical and horizontal, one-direction or two-directional, and show feedback loops.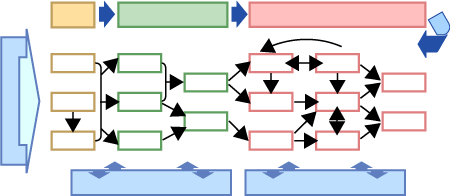 Drawing the connections is often messy and time-consuming, but necessary. It is what helps us make sure we've addressed all the logical connections. Sometimes we simplify and only include the primary linkages; otherwise, the logic model may become too difficult to read.
In the end, the final outcome theoretically links back to the beginning to make a difference, "an impact," on the originating situation. The large feedback arrow at the top right of our logic model is an attempt to illustrate this connection and the dynamics of programming. Some people like to show the circular flow of a logic model that explicitly connects the end to the beginning. In actuality, program environments are dynamic and situations change so the beginning rarely stays the same.
---