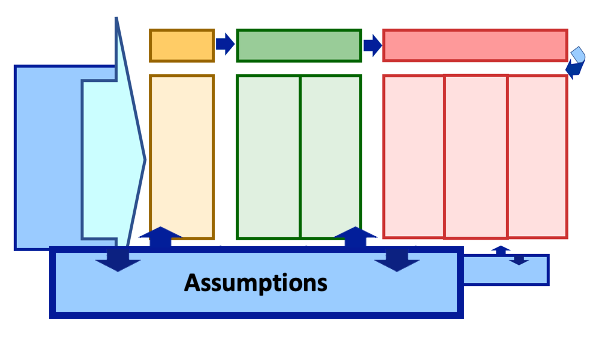 Assumptions are beliefs we have about the program and the people involved and the way we think the program will work. This is the "theory" we are talking about: the underlying beliefs in how it will work. These are validated with research and experience. Assumptions underlie and influence the program decisions we make. Assumptions are principles, beliefs, or ideas about:
The problem or situation.
The resources and staff.
The way the program will operate.
What the program expects to achieve.
The knowledge base.
The external environment.
The internal environment.
The participants: how they learn, their behavior, motivations, etc.
Certain assumptions were embedded in earlier examples of logic models. Take a minute to review those logic models, think about some assumptions you think might be embedded in them, and then check your ideas with ours.
Headache Example
Let's review a simple example we used earlier.
You are suffering from a severe headache. Your experience says that certain pills help. So, the logic model shows that first you need to get the pills. Then, you take the pills as prescribed. As a consequence, you feel better. The end result is that the headache is gone and you feel better as a result.

It assumes that you can find or get the needed pills.
It assumes that you actually take the pills as prescribed.
It assumes that the result will be similar to your previous experience taking these pills.
It assumes that there will be no negative side effects.
What other assumptions are embedded in this example?
Parent Education Example
This next example is a little more complicated. There are multiple inputs, outputs, and outcomes.

the resources are adequate and available,
a culturally appropriate curriculum can be developed and delivered effectively,
targeted parents are willing and able to attend,
and that knowledge change leads to behavior change.
In developing a logic model, we want to make explicit all the implicit assumptions we are making. They may not all be portrayed in the one-page graphic, but we do want to explore and discuss them. Often, inaccurate or overlooked assumptions are the basis for failure or less than expected results.
Think about and clarify your assumptions on all dimensions in your logic model. What do you "know?" What are you "assuming?" Continue to check and clarify them as you proceed. Often faulty assumptions are the reason for poor results.
Clarifying assumptions demands knowledge of the research or "best practice" in the substantive area, as well as "common sense."
Consider the following:
Why do you believe that the program will work this way? Are your ideas and beliefs based on research, best practice, experience, local wisdom, intuition?
Is there evidence that supports the theory of action you've laid out?
Review the following:

Programming and change strategies that have proved effective in similar communities or situations
Research literature
Evaluation reports
Examples of assumptions:
Communities can form coalitions to address problems.
Funding will be secure throughout the course of the project.
Information exists on best practices in …
People will be motivated to learn/change.
External funds and agents can serve as catalysts for change.
Staff can be recruited and hired with necessary skills and abilities.
---